Further Offers
Writing Consultant Training
If interested, students can get writing consultant training at the writing lab w.space.

The training to become a writing consultant is based on the national standards developed by the Gesellschaft für Schreibdidaktik und Schreibforschung e.V. (Society for Writing Pedagogy and Research). Upon successful completion of training, students are awarded an official university certificate with the qualification to work as writing peer tutors. They also acquire writing and counseling skills relevant to their future careers.
The training consists of the successful completion of three modules (basic module, elective module, and practical application module) and comprises a total of 180 academic hours (45 minutes each) and 6 ECTS. The participants take part in seminars, workshops, and supervised independent learning units as well as complete practical training. They document their learning progress, skills, and individual experiences in a cross-module e-portfolio.
Participation is open to all TU Dortmund University students and doctoral candidates who wish to gain theoretical knowledge and practical experience in the field as well as constructively support writers in their writing processes.
Module Content and Organization

Weekly Hours / ECTS
Dates
Registration
Module 1: Basics

The basic module consists of a seminar (2 SWS) with mandatory attendance as well as additional independent learning activities. The required texts and assignments are regularly uploaded to Moodle.

The module theoretically examines writing phases, processes, strategies, and different consulting approaches and techniques. In addition, participants engage with their own writing processes and approaches and gain knowledge about different types of writing.
2 ECTS
Seminar
(2 SWS)
plus
self-study
Title:
Ausbildung zum/zur Schreibberater*in (Basismodul)
Dates and registration via course platform
Module 2: Consolidation

Module 2 consists of freely selectable (short) academic writing and presentation workshops for German or English. In total, the elective module comprises 24 academic hours and supervised independent learning activities. Possible topics include:
Writing Strategies/Writing Skills: selecting, clustering, freewriting, etc. (2-8 hours)
Reading techniques (2-8 hours)
Text genres and conventions: Proposals /Writing Abstracts, etc. (2-8 hours)
Writing in multilingual contexts (DaF/DaZ) (2-8 hours)
2 ECTS
Short Workshops
(24 hours)
plus
self-study
Title:
Kurzworkshopreihen
I - III
Short Workshop Series
I - III
Dates and registration via course platform
Module 3: Practical Application

Following the first two modules, a practical phase offers the opportunity to apply the acquired knowledge and gain practical experience by consulting on writing processes in an academic context. To complete the third module, the participants observe and independently conduct counseling sessions amounting to 20 hours. In addition, they conceptualize and teach a short workshop. They record and reflect in writing on their respective experiences.
2 ECTS
practice phase
(20 hours)
Please discuss your individual interest and module organization with Sabine Enger
Dates and registration via course platform
© momius​/​stock.adobe.com
Location & approach
The facilities of TU Dortmund University are spread over two campuses, the larger Campus North and the smaller Campus South. Additionally, some areas of the university are located in the adjacent "Technologiepark".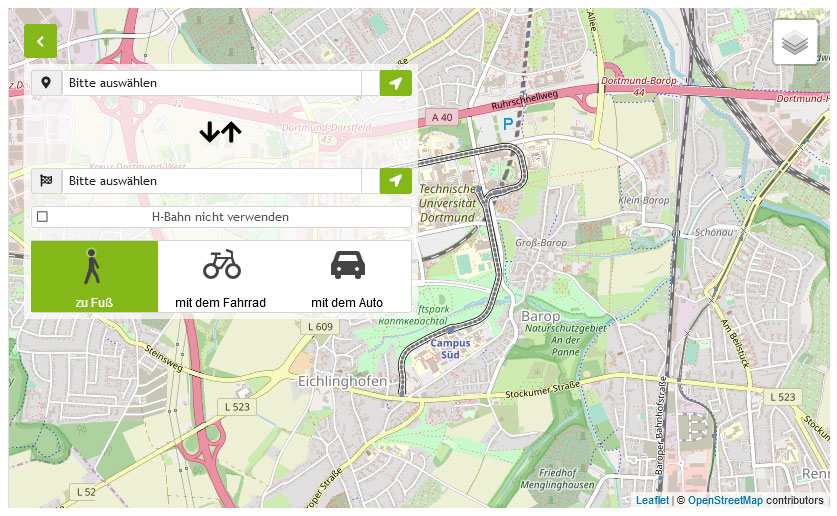 Zum Lageplan