Academic Writing and Presentations in English
Writing Skills Courses
The following writing skills courses take place in the winter term 2022/23 on a weekly basis. They are equivalent to 2 SWS and offer a generous time frame to get to know and test different dimensions and strategies of academic writing and presentations and to implement them in your own individual projects (term papers, presentations, etc.).
Title
Short Description
Registration
210911-W
Dr. Tetyana Müller-Lyaskovets
Academic Writing and Reading C1
The course pursues two goals: it creates the environment for students to work on their individual writing projects by engaging them in reading. It also uses reading as a means to reflect on writing. Students will read and analyze authentic essays, speeches, and academic articles from a variety of fields to improve their reading comprehension skills and to learn more about successful writing strategies. Students will work on writing projects of their choice.
For students from all departments
Dates and registration via course platform
210912-W
Dr. Tetyana Müller-Lyaskovets
Presentation Skills: Speaking and Listening C1
Giving presentations, participating in Q&A sessions, or talking spontaneously in a variety of professional contexts often is accompanied by our lack of confidence and the feelings of anxiety or even fear. This course is designed to help you manage these wholly natural conditions that most presenters experience. It does so by providing training and experience in planning, organizing, and delivering your presentation to small groups as well as in engaging in a meaningful conversation with your audience. The second objective of the course is to help you become an active listener and observer who knows how to take notes, ask meaningful questions, or ask for clarifications. The third objective of the course is to teach you how to lead a small group discussion and to elicit opinions from other group members.
For students from all departments
Dates and registration via course platform
© momius​/​stock.adobe.com
Location & approach
The facilities of TU Dortmund University are spread over two campuses, the larger Campus North and the smaller Campus South. Additionally, some areas of the university are located in the adjacent "Technologiepark".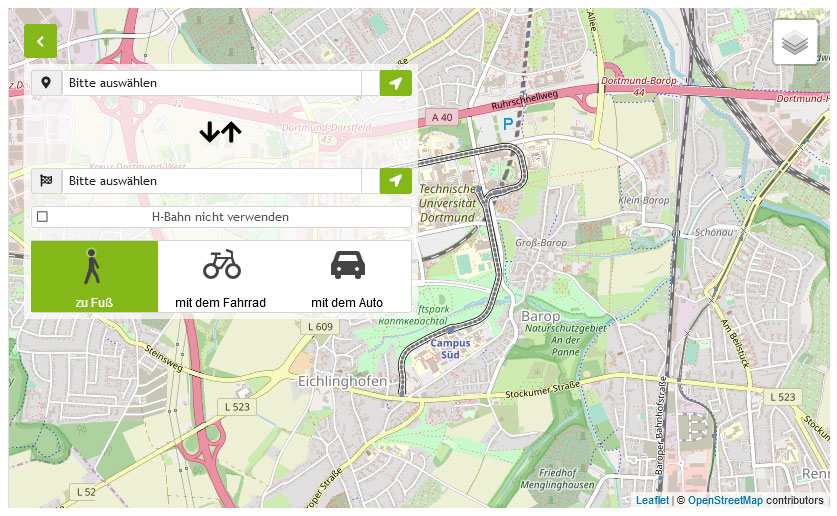 Zum Lageplan