Profile
About the Language Courses
As stated in its motto "We build bridges of internationalization," the Division of Foreign Languages sees itself as a teaching service unit contributing to the TU Dortmund University internationalization process.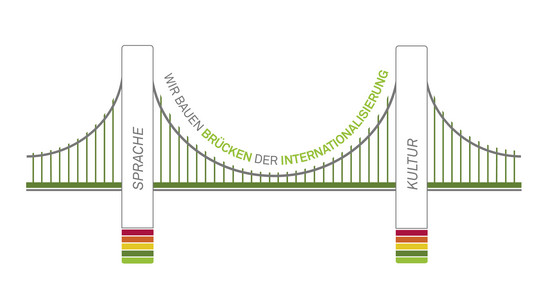 Foreign language skills and intercultural competencies are essential prerequisites of internationalization, and we facilitate both of them through our diverse offerings.
Our language courses not only teach foreign language skills on an individual basis, but also create group-based spaces for cross-cultural learning and exchange. We create bridges for German and international students and teachers to meet in our classes and learn together and from each other. The image of the bridge aptly describes the everyday encounter and exchange between cultures and languages on the TU Dortmund University campus and the dynamic interplay between the culture of origin and the target culture. Acting as cross-cultural bridges, our language courses significantly contribute to intercultural communication in the study- and career-related contexts.