Do either of these statements apply to you? I'd like to do an Erasmus semester abroad, but none of the language courses I need fit my schedule. I'd like to improve my knowledge of another language, but I'm not really sure how to go about it.
If so, then our tandem language program just might be the answer!
Tandem language learning is for people who want to advance their language skills outside a traditional classroom setting. Working hand-in-hand with a native speaker, tandem learning provides the unique opportunity for a learner to offer his or her native language in return. With each partner receiving equal time, communication occurs in both languages. One half of a tandem session is devoted to the language you wish to practice, while the other half is for your partner to practice your native tongue. Tandem learning thus allows two people to learn from, and with, each other.
Suggestions for Tandem Language Learning
| Sample Media | Educational Objective |
| --- | --- |
| Photographs | Help one become visually acquainted with another culture while gaining insight into the mentality of its people |
| News Articles / Internet | Address current events and trends |
| Video / DVD | Better understanding of authentic speech |
| Books / Lecture notes | Interact with more complex content |
| Audio books | Improve speech and listening comprehension |
Location & approach
The facilities of TU Dortmund University are spread over two campuses, the larger Campus North and the smaller Campus South. Additionally, some areas of the university are located in the adjacent "Technologiepark".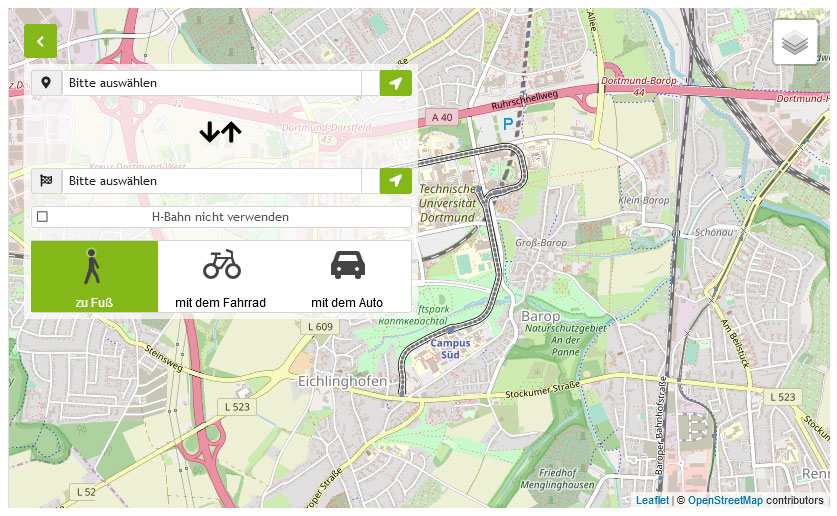 Zum Lageplan