Academic Writing and Presentations
German Writing Offers
This site including the subsites are only available in German language.
Liebe Studierende und Promovierende!
Wir freuen uns über Ihr Interesse an unseren schreibspezifischen Angeboten. Schreiben stellt eine wesentliche Schlüsselkompetenz für Studium und wissenschaftliche Weiterqualifizierung dar. Unsere Schreibwerkstatt w.space bietet Ihnen Unterstützung bei der Umsetzung universitärer Schreibprojekte. Hierzu zählen sowohl wissenschaftliche Essays, Haus-, Bachelor-, Master- und Doktorarbeiten als auch berufsbezogene Schreibaufgaben wie Motivationsschreiben, Lebensläufe, Protokolle und Anschreiben für Praktikumsbewerbungen. Darüber hinaus können Sie in unseren Workshops Methoden zur Vorbereitung wissenschaftlicher Vorträge kennenlernen und diese erproben.
Im Rahmen der Zusatzqualifikation "Schreibberatung" besteht zudem die Möglichkeit, grundlegende schreibdidaktische Kenntnisse und Beratungsmethoden zu erwerben sowie Erfahrungen in der Beratungspraxis zu sammeln, um anschließend als studentische Peerberater*innen Studierende beim Schreiben wissenschaftlicher Texte eigenständig unterstützen und in ihrem Schreibprozess begleiten zu können.
Location & approach
The facilities of TU Dortmund University are spread over two campuses, the larger Campus North and the smaller Campus South. Additionally, some areas of the university are located in the adjacent "Technologiepark".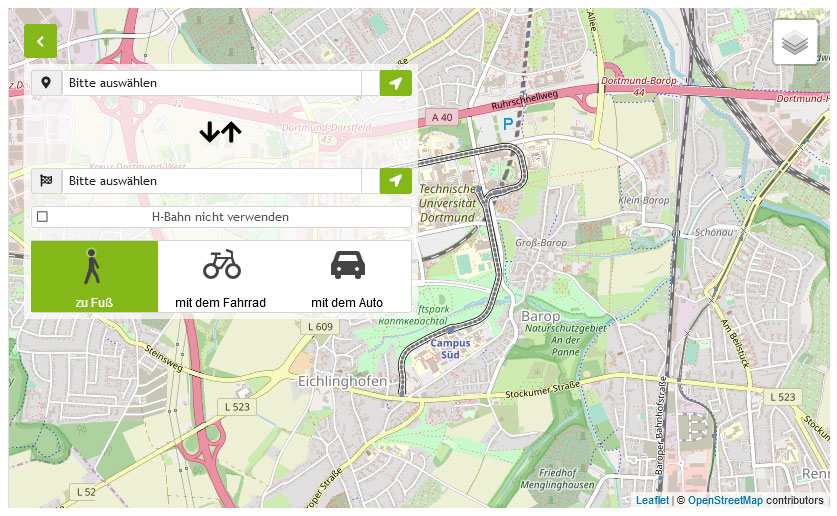 Zum Lageplan