DSH
Losverfahren zur DSH-Bewerbung
This site is only available in German language.
Registrierung
Sie können sich am t.b.a. von 10:00 bis 10:30 Uhr auf dieser Seite für das Losverfahren zur DSH-Bewerbung registrieren. Es ist nicht notwendig, sich möglichst schnell zu registrieren. Sie haben dazu 30 Minuten Zeit.
Aktualisieren Sie bitte um 10:00 Uhr Ihren Browser.
Folgende Daten müssen Sie dann in die entsprechenden Felder eintragen:
Familienname, Vorname, Geburtsdatum, E-Mailadresse.
Nach dem Senden Ihrer Daten erhalten Sie eine kurze Bestätigungsmail.
Achtung: Mit dem Senden Ihrer Daten bestätigen Sie, dass Sie alle Voraussetzungen für die DSH-Bewerbung erfüllen.
Achtung: Pro Person darf nur eine Registrierung gemacht werden. Wenn Sie sich mehrfach für das Losverfahren registrieren, werden Sie vom Losverfahren ausgeschlossen und Sie erhalten keinen Platz in der DSH-Prüfung.
Nach Abschluss der Registrierung findet die Auslosung der DSH-Plätze statt. Falls Sie im Losverfahren einen Platz für die DSH erhalten haben, werden wir Sie noch am 27. Februar bis 16:00 Uhr per E-Mail informieren. Sie erhalten dann auch ein personalisiertes Anmeldeformular als PDF.
Warteliste
Falls Sie am Losverfahren teilgenommen haben, aber keinen Platz in der DSH erhalten haben, werden Sie automatisch in eine Warteliste aufgenommen. Sie erhalten dann zunächst keine E-Mail von uns. Plätze von der Warteliste werden bis zum 3. März vergeben. Falls Sie bis zum 3. März keine Platzzusage von uns per E-Mail bekommen haben, ist eine Teilnahme an der DSH nicht möglich. Ihre Nachfragen können und werden wir nicht beantworten. Nachfragen Ihrerseits führen zudem zum Ausschluss von der Warteliste.
Bitte lesen Sie unsere aktuelle Datenschutzerklärung.
Anmeldung zur DSH im März 2022
Derzeit ist keine Anmeldung möglich.
Location & approach
The facilities of TU Dortmund University are spread over two campuses, the larger Campus North and the smaller Campus South. Additionally, some areas of the university are located in the adjacent "Technologiepark".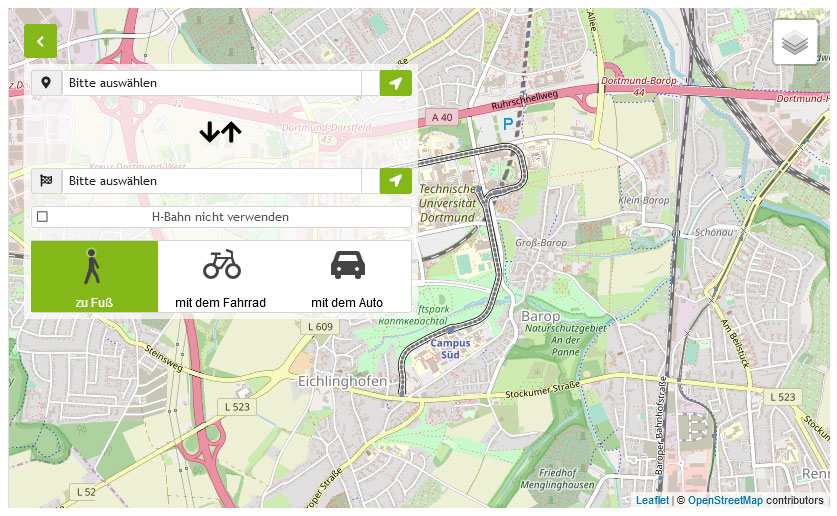 Zum Lageplan